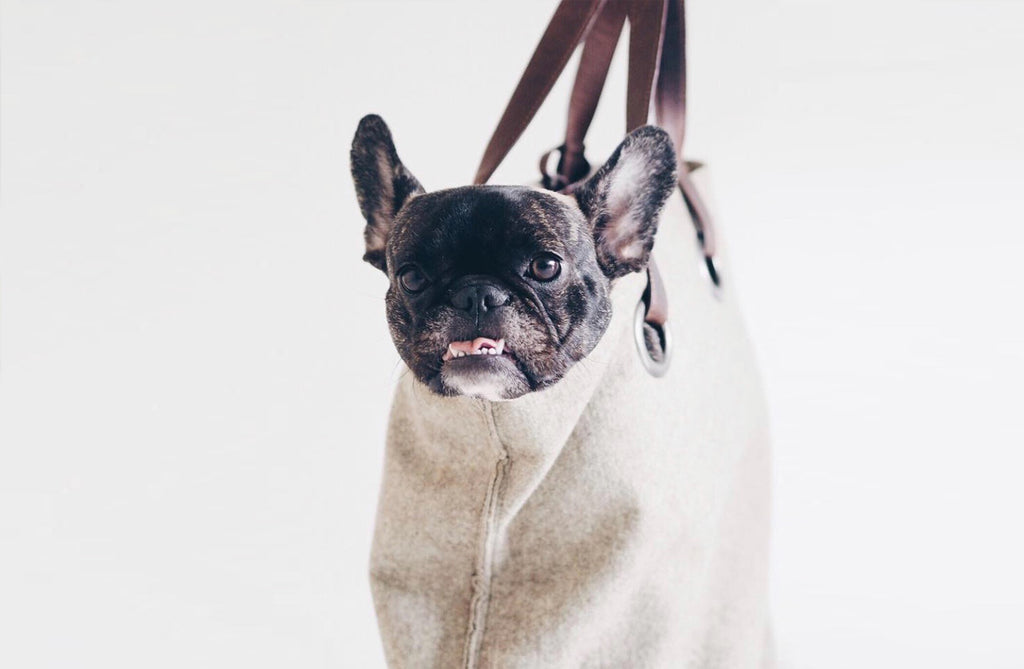 A year after setting up Ohpopdog, we decided that we were ready to get a dog! Despite my dad's strong objections against owning a pet (back then), we started our search for our new addition. It was really a no-brainer which breed it would be - yap, you guessed it right - a French Bulldog! We were initially looking to adopt a frenchie, but whenever one became available, he/she was always taken so swiftly. It was really quite difficult and after several disappointments, we decided to explore pet shops instead. 
We started visiting several pet shops to see the frenchies available. As it was my first time getting a dog, I really wanted to take my time and not make any impulsive decisions. As we were passing by one of the shops, we noticed this little ugly brindle french bulldog (Yap, you guessed it. It was Bacon!) on display. As our motive was just to look around, we didn't think much of it, and moved off without stopping.
| L: Baby Bacon, R: Bacon meeting her first friend, Garçon
One month later, Bacon was still there, still looking ugly (hahahaha, pardon me but I absolutely love ugly dogs!). We decided to step into the shop to take a better look at her. While we were playing with her, the shop owner brought out a basket of cuddly baby frenchies in white, cream and pie color. It was like we died and went to doggy heaven. The pups were all SO ADORABLE and the interesting part, they were the same price as Bacon. 
Most people would probably gravitate towards the adorable babies. However, the connection we had with Bacon was instant and strong, already overpowering the adorable Frenchie babies. In my heart I knew I wanted her, and nothing else. Our hearts broke when the shop owner mentioned that as she was almost four months old, if no one bought her within the next couple of weeks, it was likely that she would be sent to a puppy mill and be used for breeding. Both G and myself knew right away that there was no way we could let that happen. And the truth was, since we didn't have any luck with adoptions, why don't we take Bacon home instead?
| Bacon's Day Out!

We really weren't even thinking of bringing a dog home with us that day and hence, was unprepared. So, we pleaded with him to let us place a deposit of $50 (that was all we had!) instead of $500, since he only accepts cash. Somehow, he agreed. Gosh, we were all over the moon! And yes, we were finally going to become pet parents!
Happiness aside, a part of me was really worried that my dad would not allow a dog to be in his house. Well, that's a whole story for another day. But the truth was, it wasn't me who managed to convince him. It was Bacon who just so naturally won the steel heart of my dad over.
| Bacon also took on the role of Ohpopdog's model