SIX Things To Do with Your Dog While Staying at home!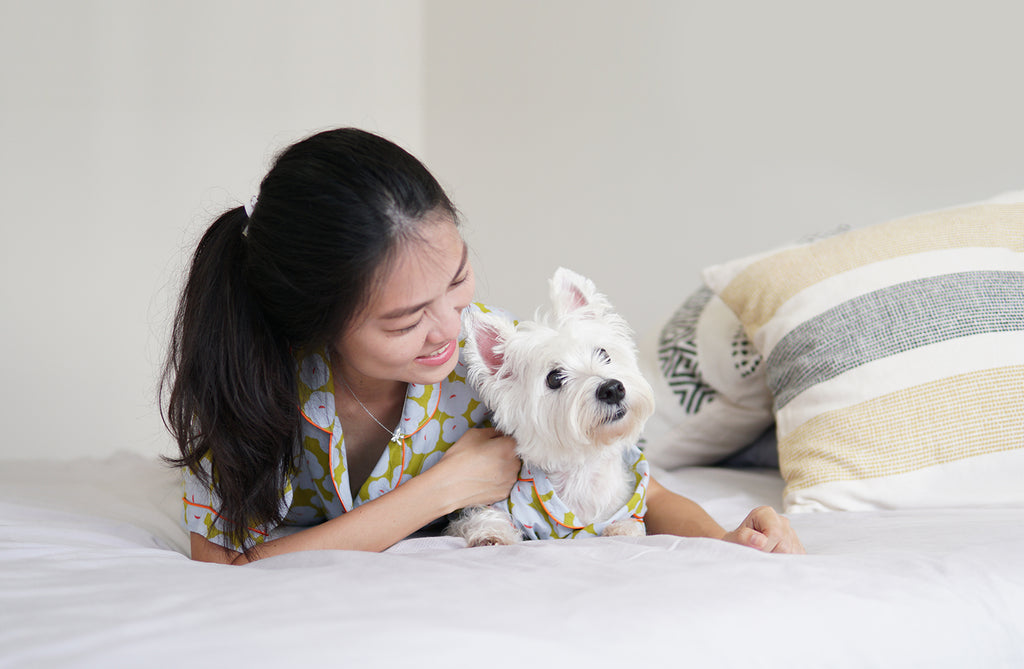 The recent Coronavirus (COVID-19) pandemic has us staying indoors to do our part to socially distance ourselves to help prevent the spread of COVID-19. It can be challenging adjusting to this sudden change in our lifestyles, but hey, on a good note, we get to spend more time with our furkids.
To help make our stay at home a fun one, we put together a list of activities for you and your furkids to enjoy together.
Here are some tips on how to pass your time and have a great time with your pooch. We hope they will help you fill your days with fun, laughter and a little happiness! 
#1 DIY Dog Toys
We have curated simple, short and easy DIY dog toy tutorials! We're sure your dog will adore these "made with love" toys! Best of all, all these toys can be made from old t-shirts and jeans, (Even more reason for you to start your spring cleaning now). Environmental-friendly and fun - what's not to love about them?
Rope Toy  |  Squeaky Done Dog Toy  |  Tennis Ball Treat Toy for Dogs

Fret not if you do not have a sewing machine lying around, here are some tutorials just for you!
No-Sew DIY Dog Bowtie  |  No-Sew Dog Bandana
I hope the above links will make you and your pooch not only feel good, but look good too!
#2 Improve Your Photography Skills
Do you have difficulties getting good pictures of your pets? Are they always on the move? Or are you struggling to get them to look at the camera? Now is the best time to practice taking Insta-worthy pictures of your pets!
This article is very straightforward and easy to understand. Plus, they have a few really useful tips to boost your photography skills. Check it out and have fun shooting!
#3 Learn a New Trick
Staying at home creates the perfect opportunity to teach new tricks to your dog. Time to teach them how to play dead, sit pretty or do yoga! Not only is it fun, it's a great bonding exercise for you and your dog. Here's a list of 27 dog tricks that you can teach your dog. (Plus, it comes with instructional videos too!) Soon, your dog will be the smartest pooch in the hood!

#4 Extra Snuggles!
We all work and spend a large portion of the day working. Take this time to make the most of your relationship with your pet. Give them extra cuddles and pay special attention to them, an opportunity to bond with your dog. Our pets really do make the stay home experience much more tolerable (at least for me, haha).
"No one appreciates the very special genius of your conversation as much as the dog does."
–
Christopher Morley
#5 Movies for dog lovers
It's Netflix-and-chill time with your furkids! Grab those popcorns (for the humans) and treats (for the doggos) and cozy up on the couch! We are sharing our all-time favorite dog shows for a movie night with your furry kiddo, and also for any dog lover.
"I don't care who dies in the movie, as long as the dog lives."  — so true and well said!
Dog Movies/Series
"Isle of Dogs" - the canine flu epidemic in Japan is forcing all dogs to quarantine on an island.

"Beethoven" - The Newtons adopt a St Bernard and name him Beethoven, mad scientists, attempt to kill Beethoven for an experiment. 
"Lady and The Tramp" - a Disney classic - An American cocker spaniel and a runaway schnauzer embark on several adventures.
"Best In Show" - get a 'behind the scenes' look in the highly competitive world of dog shows.

"A Dog's Purpose" with the sequel "A Dog's Journey" - a devoted dog who finds the meaning of his own existence and humans he teaches to laugh and love.
"Hachi: A Dog's Tale" - A professor adopted an abandoned dog and takes him home and they forms an unbreakable bond - based on a true story

"Marley & Me" -  Marley who teaches the family and their children important life lessons.

"White Fang" - The wolfdog who must survive the desperate situations and the wicked villains in order to find his way to the loving family.
"Turner & Hooch" - Detective Turner lives an orderly life until Hooch came along.
"

Dogs" - take the viewer on an inspiring journey and the unconditional love one feels for their dog.



"

Russell Madness

" - An Jack Russell Terrier who unknowingly becomes a professional wrestling superstar while discovering the true power of the family.
#6 Cleaning & Organizing
Time for some "Marie Kondo-ing" of your dog's things! With more free time on hand, no more excuses to not finally do some cleaning and organizing!
Here are a few quick cleaning routines to keep your furkid's spaces tidy and sanitary:
Wash your dog's food bowls and clean up any mess around his/her feeding area
Clean around the kitchen floor to keep any food scraps away from your pooch or kitty
Keep the sleeping area neat and comfy
Organize and wash the walk accessories, bed, bandanas, toys and outfits
Don't forget to check the labels of your cleaning products (eg. floor cleaners, detergent) to ensure that they are pet-friendly too!